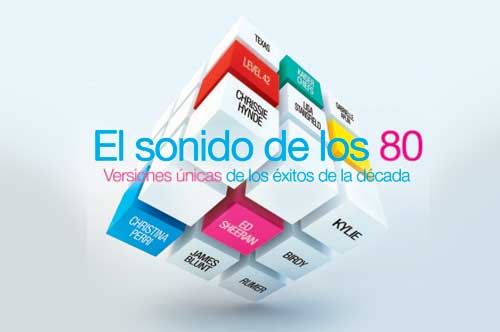 "El sonido de los 80", los clásicos de los años 80 interpretados por los mejores artistas actuales
Escucha a Ed Sheeran, Christina Perri, Birdy o Kylie Minogue versionenado a Bruce Springsteen, Cher, Madonna o Elton John
(Londres-Madrid a 3 de Marzo del 2015)  Ya esta a la venta "El sonido de los 80". El disco que contiene las mejores canciones de la década de 1980 interpretadas por los mejores artistas actuales. El álbum se pone a la venta en edición digital y CD a un precio especial reducido.
El Sonido de los 80 es un proyecto diseñado y grabado por Radio 2 de la BBC, en el que algunos de los más populares artistas de la actualidad repasan sus canciones favoritas de una década mágica en la historia de la música pop.
Cada canción ha sido grabada exclusivamente para este proyecto, por lo que no pueden encontrarse en ningún otro disco. El repertorio y los artistas que participan en el proyecto ha sido cuidadosamente escogidos y componen una selección irrepetible. La lista contiene 20 canciones de Bruce Springsteen, Madonna, Cher, Elton John, INXS, The Waterboys, Wham! o The Clash interpretadas por artistas como Ed Sheeran, Christina Perri, Birdy, James Blunt, Kylie Minogue, Rumer, Chrissie Hynde, Gabrielle Aplin, Katie Melua o Texas.
Pincha en la portada para ver un teaser
"El sonido de los 80" es un proyecto que tiende puentes entre dos generaciones y para el que los artistas participantes se han involucrado con especial ilusión
Éste es el listado de canciones:
Ed Sheeran – Atlantic City  (Bruce Springsteen)3.15
Christina Perri – If I Could Turn Back Time  (Cher)4.25
Caro Emerald – Walk Like An Egyptian (The Bangles) 3.27
Kylie Minogue – Bette Davis Eyes  ( Kim Carnes)4.23
Level 42– Need You Tonight  (INXS) 3.04
Chrissie Hynde – Everyday Is Like Sunday  (Morrissey) 3.03
Jermain Jackman – I Want To Know What Love Is (Foreigner) 3.39
Gabrielle Aplin– That's All (Genesis) 3.31
Birdy – Lucky Star  (Madonna)2.42
James Blunt – I Guess That's Why they Call It the Blues  (Elton John) 3.49
Rumer – Arthur's Theme (The Best That I Can Do) (Christopher Cross)3.56
Katie Melua – Wonderful Life   (Black) 4.04
Ward Thomas – Man In The Mirror( Michael Jackson) 3.56
Lisa Stansfield – You're the Best Thing  (The Style Council) 4.03
Boyzone – The Whole of the Moon  (The Waterboys) 4.31
Texas – Don't Talk To Me About Love (Altered Images) 3.48
Si Cranstoun – Tell Her About It (Billy Joel) 3.35
Kian Egan – Run To You  (Bryan Adams) 3.35
The Overtones – Wake Me Up Before You Go-Go  (Wham!) 3.28
Kaiser Chiefs – Should I Stay Or Should I Go (The Clash)